I was given the opportunity to watch a very interesting DVD recently called
Understanding Child Brain Development
from
The Family Hope Center
. The Family Hope Center is an international center that helps families that have children with special needs that include Autism, ADHD, Down Syndrome, and more. They do not believe in treating the disability but instead treating the part of the brain affected in a more holistic type of way instead of relying on medicine. I was especially intrigued with it as my son would be a strong candidate to be helped by an organization like this.
I think I have blogged about it before but we were blessed with my son at 4.5 months old as a foster baby. (he is almost 14 now) He was born with Prader-Willi Syndrome but over the years we have discovered he also has ADHD and is on the autism spectrum. Before he came to our home he spent much of the first 2-3 months in the hospital as he was also 9 weeks premature. Without going into too many details he was taken away from his biological parents due to medical neglect and other reasons. When he came to our home the back of his head was very flat (it actually still is), and his neck was atrophied to one side as he spent all of his time in a crib and most likely not held.
One of the first comments we received from someone when he first came to live with us was "have they checked his brain waves" (what does that mean anyway, and who says that to a new parent?) as he was virtually non responsive. Well, until you tried to hold him. He did NOT like to be held but with help from awesome doctors, physical therapists, and occupational therapists (oh and I cannot leave out God!) we were given the support and guidance to help turn things around for A~man. We were told he might not live when we got him. Not easy for a couple that had been desperately waiting many years to become a parent.
So getting the chance to watch these videos was fascinating! The first video I watched was Stories Of Family Hope which features families of children who have cerebral palsy, autism, seizures, and ADHD. (plus a brain injury) The stories were really well done portraying each family's situations whether detected at birth or later on. It also showed the children receiving intervention to help them.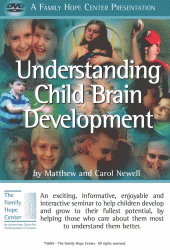 The next video was Understanding Child Brain Development and it was more of a seminar. My husband texted me while I was watching it asking how it was and I told him "it was a little dry, but very interesting at the same time". LOL It reminded me of a refresher college course, but I mean that in a good way. I did need a cup of coffee halfway through BUT it had a lot of very good information on it that I had just not thought about. It talked about the different functions of the brain and how different physical activities can benefit the brain plus the value of nutrition.
I was happy to see that over the years we have done many of the things- no microwave, daily exercise, sunshine, not food coloring/preservatives, mostly organic but I was able to obtain some new info that I hope to try out with my son. I found the "crawling' information very interesting as my son never crawled! He just rolled from one place to the next. I'm not sure I can get him to do it but it's worth a try. I'm just going to tell him it is an exercise to make him strong. ;)
The Newell's gave some practical advice for families to help their families have better health which included understanding the child and working together, nutrition (eliminating EMF's), structure work, basic sensory stimulation, neurologically based mobility programs, and consistency. (schedule, emotional and social support)
To order the DVD you can call 610-397-1737 or you can order
Understanding Child Brain Development
from the Institute for Excellence in Writing for $19.00. The video is targeted for parents and adults.