What books are A~man and I reading right now? As a member of the TOS review crew we were able to try out two books from The Boys Heritage Set, from
Grace and Truth Books
.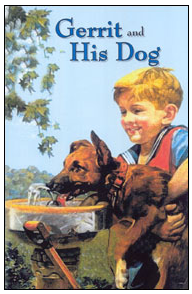 The first book we read was called
Gerrit and His Dog
, which also includes the story
The Royal Law
. When we first started reading
Gerrit and His Dog
I admittedly became irritated. You see, Gerrit is a young orphan boy that has some type of cognitive disability. Of course this isn't the part that irritated me but the language that was used to describe the young boy did. (words like feeble minded) This caused me to do some detective work. (Joy remember to read the back of the book BEFORE reading the inside!)
Gerrit and His Dog
(recommended for ages 10-14) is a story that has been reprinted and was originally printed in the early 1900's. So that explained why the language was very politically incorrect! That aside, this book very tenderly shows how a small town took this young boy under their wings to ensure he was safe, loved, and that his best friend Brownie was returned to his side.
It really was a sweet story that demonstrated a group of people coming together to show a young boy God's compassionate love.
The second story in the book was
The Royal Law.
It was also about a young boy that was in need of compassion. Hans Wiggens and his family were poor, and traveled from town to town selling things off of their wagon. Food and acceptance were scarce until his family learns about God's unconditional love.
The other book we were given to read and review was
A Faithful Boy's Influence.
(recommended for ages 6-12) This title was originally published in the 1800's. The purpose of both of these books are to help influence a boy to have a Christian character, and this book demonstrated just that! Charlie Clement was visiting his relatives in Meedville and demonstrated to all around him a deep respect for the church and for the local pastor.
Up until Charlie Clement came to visit the town the local parishioners did not know what to think of the extremely quiet pastor who kept to himself. Charlie was able to befriend the man and also draw other people to get to know him. The young boy demonstrated a quality of respect and honor that was sorely missing from the children and adults of the community.
What did my son think of these books? With his learning challenges the reading level was too high for him BUT the content of the book was perfect for him! Because it was written so long ago some of the wording wasn't what he was used to but we used that opportunity to learn some new words and phrases. It also gave us a great chance to have some conversations about the Godly qualities demonstrated in the books. He loves dogs so his favorite story by far was
Gerrit and His Dog.
I would highly recommend these books and hope to order a few more to read aloud to both of my children.
The price for
Gerrit and His Dog
is 5.50 and the for
A Faithful Boy's Influence
is 6.25. This is a great price I think for these character building titles!
The Crew did reviews on numerous books by this company and I encourage you to check out all of the
other Grace & Truth reviews
!
Disclaimer-I received my copies of the books from Grace and Truth Books in exchange for an honest review of their products. All opinions are mine.