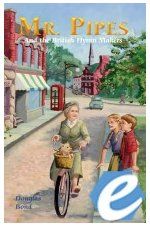 Annie and Drew travel to England with their mom who is doing research there in a small town, Olney, that is "off the beaten path and old." Although perfect for their mother's research, both children are not thrilled with this prospect, especially Drew, as old to him equals boring and dull. All plans for excitement for the summer are seemingly thwarted by the fact that they left the exciting fast pace of their home city behind that was filled with fast food restaurants, sports, concerts and all of their friends. To drown out his boredom Drew spends the beginning of his vacation with his ears plugged into his headphones. Shortly after beginning their exploration, while traveling on a train, he loses his headphones which proves to be only the beginning of a notably wonderful adventure!
Mr. Pipes and the British Hymn Makers was written by Douglas Bond who is the author of more than a dozen books. He is an English and history high school teacher and also an elder in the Presbyterian Church in America. This book ties in the history of several famous hymn writers and the impact they made on those around them in using their gifts to bring "humble adoration" to their Maker. A few of these hymn leaders lead very colorful lives before deciding to follow God.
One of the hymn writers, Isaac Watts, was even taught Latin, Greek, Hebrew, and French at home by his father when he was very young. Isaac had an uncanny way of writing poetry that was way beyond his years and at first his mom doubted that her 7 year old son was able to write so well about his faith. One such poem she discovered was obviously his original as the first letter of each line ended up spelled ISAAC WATTS.
I really like how the children who were expecting to have a boring summer instead discovered adventure learning how to sail a boat, fish, and ride a horse. They also learned about the history of church music through their new friend Mr. Pipes. In learning more about the lives of the British hymn makers they were able to come to a deeper understanding about their own faith in God. They also come learn about the importance of traditional praise worship.
I would recommend this book for children ages 9-12. My daughter is 11 and really enjoyed how the plot of the book tied into learning about the history of church music. We are looking forward to reading the rest of the series to go along with our current homeschool curriculum. There is enough information for an older child to learn about church history but the storyline is more for a younger child in my opinion than an older teen. I really enjoyed this book but it is a bit on the long side.
Mr. Pipes and the British Hymn Makers by Douglas Bond is published by Christian Liberty Press and is the first book in a series. It is available in print for $9.89, and also conveniently as an e-book, which is on on sale now for $8.79.
Check out what other members of the Schoolhouse Review Crew had to say about this book!

A PDF copy of Mr. Pipes was given to me free of charge, in exchange for my honest review, as a member of the Schoolhouse Review Crew. I receive no other compensation for my reviews on this blog. The opinions expressed are my own.