As a member of TOS crew both of my children were given the opportunity to try out the online mathematics program
Aleks
. What is Aleks? This is from their website:
Assessment and Learning in Knowledge Spaces is a Web-based, artificially intelligent assessment and learning system. ALEKS uses adaptive questioning to quickly and accurately determine exactly what a student knows and doesn't know in a course. ALEKS then instructs the student on the topics she is most ready to learn. As a student works through a course, ALEKS periodically reassesses the student to ensure that topics learned are also retained. ALEKS courses are very complete in their topic coverage and ALEKS avoids multiple-choice questions. A student who shows a high level of mastery of an ALEKS course will be successful in the actual course she is taking.
ALEKS also provides the advantages of one-on-one instruction, 24/7, from virtually any Web-based computer for a fraction of the cost of a human tutor.
I admit that I have tried this program before a couple of years ago but neither one of my kids were quite ready for it. This time seemed to work a lot better, especially for my daughter who is 10. I was really impressed with the way the initial test could set each child's individual level. My son who is 12 but developmentally at a lower level started out doing well with it until it became more challenging for him. With his disability he requires a lot (I MEAN A LOT!) of repetition before he truly knows something,especially if it something he isn't particularly interested in. So I found that for him there wasn't enough review for him to get the problems right without me helping him extensively. He did seem to enjoy the program though and looked forward each afternoon to trying it out with me. My daughter? She loved the fact she didn't have to do a ton of repetition when learning a concept and the review that came the next day was the perfect amount for her.
Both children really enjoyed the pie that kept track of their progress. At the end of doing lessons for the day they both would ask to see their pie graph. (
this illustration below is showing the middle school math but we are doing the elementary math
)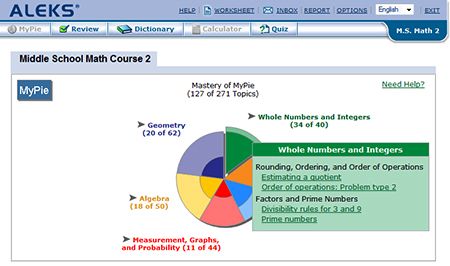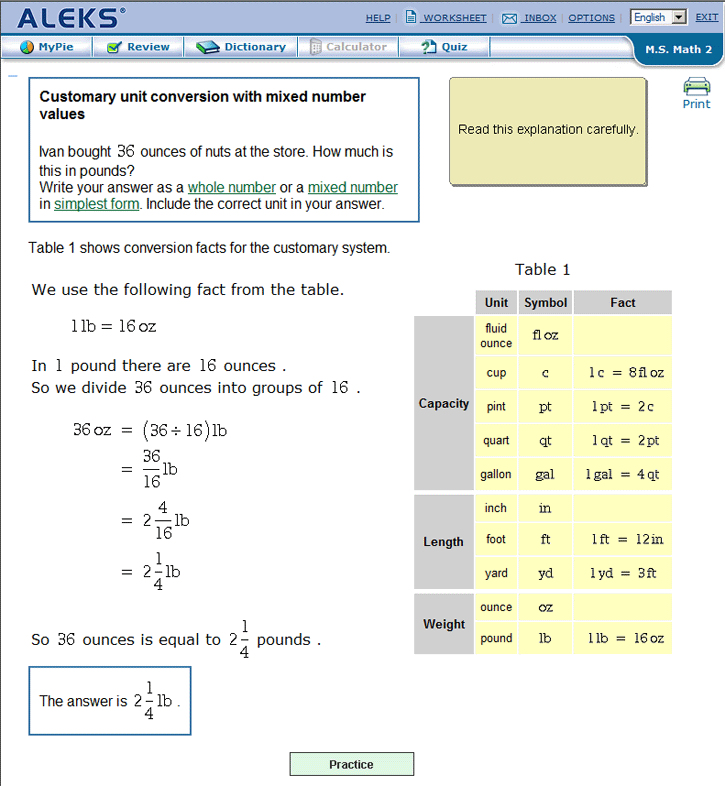 I plan on continuing out the rest of the school year with my daughter using this program. In the past for math we have concentrated on on one math skill at a time but I really like how this teaches different concepts at the same time. This seems to help with the monotony of just doing problem after problem of the same thing.
The program isn't just for children either! It can be used for high school and for adults wanting to continue their education.
How much does ALEKS cost? A subscription to ALEKS costs:
$19.95 per student, per month, or
only $99.95 every 6 months, or
only $179.95 every 12 months.
Learn about their family discount program.
What better way to find out if it works for your family but to try it yourself?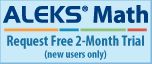 If you would like to read what other TOS members thought of this program check out
their reviews
!
Disclaimer: I received this product from TOS Homeschool Crew in exchange for an honest review. I was not required to write a positive review; all opinions stated are how this program worked for my family.